NPT Thread Push to Connect Fittings -
PM Bulkhead Union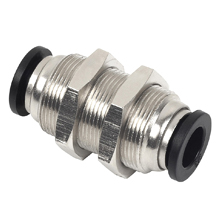 Inch size push to connect fitting bulkhead union is used to connect two tubes on both ends through a panel or other barrier in straight line and can easily change the tubing connector direction, provides optimum sealing between the fitting and the panel. Push to connect pneumatic fitting bulkhead union is made of nickel plated brass, stainless steel, POM, and other materials that resist corrosion and wear. Push to connect fittings have a working pressure of up to 150 psi, and can be used with compressed air or inert gas. Push-to-connect fittings allow a quicker method of connection when compared to compression fitting or hose barb and clamp connections. Simple installation--push the tubing in, and the connection is complete. To release the tubing, press the release sleeve on the fitting, and you can easily pull the tube out. Accommodate inch tubing O.D ranging from 1/8" to 1/2".
All Pneuflex's push to connect fittings, pneumatic fittings, push in fittings can be used with Polyurethane Tubing, Nylon Tubing, Polyethylene Tubing and PVC Tubing.
Shape of Release Sleeve: Oval and Round.
Colors of Release Sleeve: Blue, Red, Black, Grey or Custom Color.
Body Color: Black or Grey.
Products of