NPT Thread Push to Connect Fittings -
PKD Triple Male Branch Reducer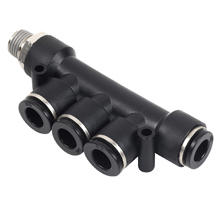 Push to connect fitting triple male branch reducer is used to connect a tube to a female NPT threaded connection inline to three smaller tube connections at a right angle. Using manifold you can easily make a departure from the main line to the three tubes. Tightening with a flat wrench. Triple male branch Reducer pneumatic fitting can be rotated after installation to allow for variations in piping direction. Pneumatic push to connect fitting triple male branch Reducer is made of nickel plated brass and strong thermoplastic (PBT) and has POM release sleeve, stainless steel tube gripping claw. Pre-coated Teflon threads are ready to use without additional sealing. Push to connect fittings are easy to install and release. Simple installation--push the tubing in, and the connection is complete. To release the tubing, press the release sleeve on the fitting, and you can easily pull the tube out.Accommodate metric tubing O.D ranging from 4 mm to 12 mm, inch tubing O.D ranging from 1/8" to 1/2". Thread sizes range from 1/8 NPT to 1/2 NPT.
All Pneuflex's push to connect fittings, push in fittings, pneumatic fittings can be used with Polyurethane Tubing, Nylon Tubing, Polyethylene Tubing and PVC Tubing.
Shape of Release Sleeve: Oval and Round.
Colors of Release Sleeve: Blue, Red, Black, Grey or Custom Color.
Body Color: Black or Grey.
Products of