Push in Fittings | One Touch Fittings (PT, R, BSPT Thread) -
PHX Male Double Branch Y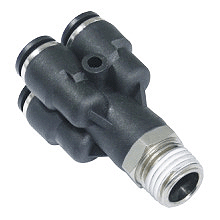 Pneumatic fitting, push in fitting male double branch Y is used to connect four tubes to a female threaded connection in same direction. Male double branch Y pneumatic fitting can be rotated after installation to allow for variations in piping direction. Pneumatic push to connect fitting male double branch Y is made of strong thermoplastic (PBT) and has stainless steel tube gripping claw; threaded component is made of nickel plated brass. Pre-coated Teflon threads are ready to use without additional sealing. External tightening with a flat wrench. Accommodate metric tubing O.D ranging from 4 mm to 12 mm, inch tubing O.D ranging from 1/8" to 1/2". Thread sizes range from R, PT, BSPT 1/8 to R, PT, BSPT 1/2.
All Pneuflex's push-in fittings, pneumatic fittings, push to connect fittings can be used with Polyurethane Tubing, Nylon Tubing, Polyethylene Tubing and PVC Tubing.
Shape of Release Sleeve: Oval and Round.
Colors of Release Sleeve: Blue, Red, Black, Grey or Custom Color.
Body Color: Black or Grey.
Products of