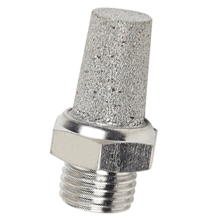 Standard sintered stainless steel silencer is constructed with stainless steel, the body is made of stainless steel powder and the base is made of stainless steel. This sintered stainless steel muffler is resistant to atmospheric corrosion, foodstuffs, sterilizing solutions, many organic chemicals, dyestuffs, and a wide variety of inorganic chemicals, it's easy to install and maintain, particularly suitable for confined areas. It's used to reduce dynamic noise from the exhaust ports of air valve, air cylinder and air tool. Stainless steel pneumatic silencers and mufflers can also be used as filter to protect dirt and foreign particles from entering port open to the atmosphere. Conical shape to maximize surface area. External tightening with a flat wrench or socket wrench.
Available thread types and sizes:
• PT, R, BSPT; NPT; BSPP, G; Metric Thread
• M5 to M20
• 10-32UNF
• 1/8" to 2"
Products of