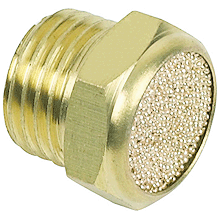 Sintered brass breather vent silencer is widely used on single acting cylinders or valves to reduce noise and prevent dirt and foreign particles from entering ports open to the atmosphere. Common uses can also be found on vacuum relief or pressure equalization for gear boxes, crank cases, storage tanks or other vessels whenever pressure equalization is required.
Supplied with standard male pipe thread they can be installed with little protrusion, as a flat integral part of the equipment, Unit should be mounted in a protective position from excessive vibration. Use wrench on hex to tighten.
The filter element used in the standard breather vent is made of sintered brass powders. External tightening with a flat wrench or socket wrench.
Available thread types and sizes:
• PT, R, BSPT; NPT; BSPP, G; Metric Thread
• M5 to M20; 1/8" to 2"
Products of