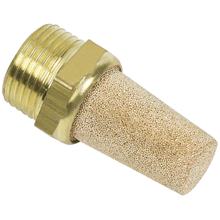 Standard sintered brass silencer is widely used to reduce dynamic noise of the pneumatic components or device exhaust to an industry accepted level with minimum flow restriction. Standard sintered brass silencer can also be used on valves, cylinders,oil tanks, air tools and some other systems as filters to prevent metal chips, abrasive grits, dust and other contaminants from entering open exhaust ports and causing premature valve failure. Conical shape to maximize surface area. Sintered brass silencers are made of brass and sintered brass powders. External tightening with a flat wrench or socket wrench.
Available thread types and sizes:
• PT, R, BSPT; NPT; BSPP, G; Metric Thread
• M5 to M20
• 10-32UNF
• 1/8" to 2"
Products of