Push in Fittings | One Touch Fittings (PT, R, BSPT Thread)
Push in Fittings (PT, R, BSPT Thread)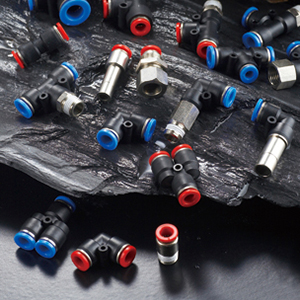 Pneuflex push in fittings (pneumatic fittings, push to connect fittings, one touch fittings) are made of nickel plated brass (thread) and PBT (body), stainless steel tube gripping claws, collars and POM release sleeves offer a quick hold and release mechanism to provide a low disconnection force for easy removal of the tubing. To assemble the tube, simply insert the tube into the fitting until it bottoms. To release the tube, press the release sleeve ring and the tube can be easily pulled out. Push in fittings (pneumatic push to connect fittings, one touch tube fittings) come in a variety of types, models and sizes to satisfy various tubes demands and provide essential links between components in pneumatic systems. Threaded Elbow and Tee fitting bodies can be rotated after installation to allow for variations in piping direction. Accommodate metric tubing O.D ranging from 4 mm to 16 mm, inch tube ranging from 1/8" to 1/2"; thread sizes range is from R, PT, BSPT 1/8 to R, PT, BSPT 1/2 and metric thread from M5 to M20.
Shape of Release Sleeve: Oval and Round.
Colors of Release Sleeve: Blue, Red, Black, Grey or Custom Color.
Technical Data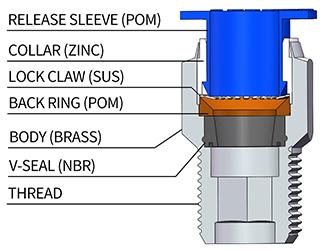 Fluid Admitted: Air, Vaccum, Water(no freezing)
Body Material: Nickel Plated Brass & PBT Plastic
Thread Material: Nickle Plated Brass
Seal, O-ring: NBR
Working Pressure: 0—1.0MPa | 0—150psi
Proof Pressure: 3.0Mpa | 435psi
Negative Pressure: -100Kpa | -29.5 In Hg
Working Temperature: 0—60°C | 32—140°F
Lock Claw: Stainless Steel(SUS)
Applicable Tube: PU / PA / PE / PVC
Documents
PDF Catalogue
Applicable Tube O.D
Thread Type and Size
Products of Push in Fittings (PT, R, BSPT Thread)
---