D.O.T Push in Tube Fittings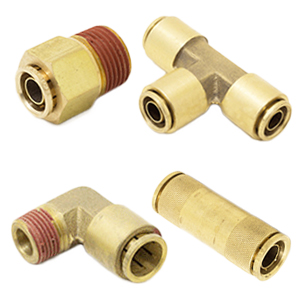 Pneuflex D.O.T push in tube fittings (push to connect fittings) are the most commonly used connection in air brake applications, made of brass for strength and resistance to corrosion. D.O.T push in tube fittings meet D.O.T FMVSS 571.106 Air Brake Performance Requirements and SAE J1131, J2494-1 & J2494-3 Air Brake Performance Requirements. D.O.T regulations require all nylon tubing air brake connections have fittings with an inner tube support. The tubing slides into the fitting and the metal inner tube support slides into the tube. This provides a more solid connection for over the road air brake systems. All male threads of air brake DOT push in fittings have a pre-applied Teflon based pipe sealant to provide for easy assembly and leak proof seal. When installing, ensure tubing ends are cut squarely and free from burrs; to remove, hold down the top of the insert against the fitting body then pull out the tubing. Accommodate inch tubing O.D ranging from 5/32" to 1/2". Thread sizes range is from 10-32 UNF, 1/8 NPT to 1/2 NPT.
Simple tube connection and disconnection - no tools required
Reduced assembly & maintenance times provide time/labor savings
Elbows and tees available with 360° swivel
Reusable: Can be connected and disconnected several times.