Brass Pipe Fittings | Brass Threaded Fittings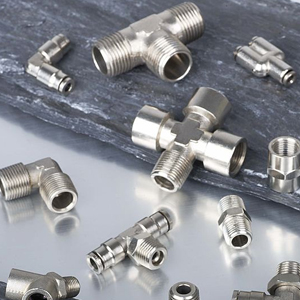 Brass pipe fittings are made of brass bar or forging brass, consist of a wide variety of components, such as nipple, reduction pieces, bush, nut, hose connection, plug, adapter, elbow, tee and cross fittings etc. Pneuflex's brass pipe fittings all meet specifications and standards of ASA, ASME and SAE.
Pneuflex's brass pipe fittings are manufactured for low and medium pressure pipe line connections. The fluid can be water, refrigeration, instrumentation, hydraulic systems, grease, fuels, LP and natural gas. Application suitability in areas like air conditioner, refrigerator, automobile; choice of different heat treatment like annealing, normalizing, tempering, carburizing, induction hardening among others. Accommodate thread sizes ranging from BSPT, BSPP, NPT 1/8" to 1".
Body material: Natural Brass & Nickel Plated Brass