Misting System Fittings -
BPPM Slip Lock End Fitting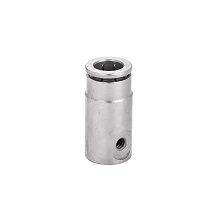 Slip lock end misting fitting with one nozzle hole has a durable brass mist nozzle and works with both low and high pressure misting systems. The slip lock fitting works with 6 mm, 10 mm, 1/4 and 3/8-inch plastic or nylon mist tubing and assembles fast and easy for installation and repair. you just push the Nylon tubing into the fitting and it instantly locks into place ensuring a watertight seal. This water misting system fitting can rotate a full 360 degrees so you can direct your water mist right where it is needed. This slip lock end misting fitting is an ideal mist part for customizing or making repairs to your residential misting system.
Slip lock end misting fitting connects a nozzle with 10-24 UNC, 10-32 UNF, M5 or M6 thread hole.
Slip lock misting fittings can be used with 6 mm, 10 mm, 1/4 and 3/8-inch plastic or nylon tubing. Nylon has a higher pressure rating and is a standard in misting industry. Nylon is a stronger material and has a thicker wall to give it that 1450 psi rating popular in misting.
Products of