Flow Control Valves, Flow Control Regulators -
PA Union Straight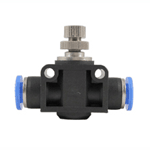 Inline union straight flow control valve (flow control regulator, speed controller) is useful in unidirectional media flow applications. In-line controls can be easily added to existing circuitry and are lightweight and compact. Since it is a tube-to-tube connection, in-line flow controls may be installed as a meter-in or meter-out device. Control is varied through a finely threaded adjustment screw. A locking nut is provided so it can be secured in its final setting. Accommodate metric tubing O.D ranging from 4 mm to 16 mm, inch tubing O.D ranging from 1/8" to 1/2".

All Pneuflex's flow control valves can be used with Polyurethane Tubing, Nylon Tubing, Polyethylene Tubing and PVC Tubing.
Shape of Release Sleeve: Oval and Round.
Colors of Release Sleeve: Blue, Red, Black, Grey or Custom Color.
Body Color: Black or Grey.
Products of