Flow Control Valves, Flow Control Regulators -
JSC-S-B Meter-in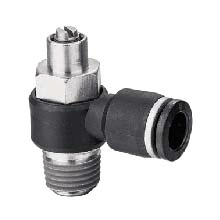 Composite right angle flow control valves (flow control regulator, speed controller) are available in meter-in styles, connect tubing to a female threaded connection at a 90-degree angle. Meter-in composite right angle flow control valve (flow control regulator, speed controller) controls the flow rate of air entering from the tube side, whereas air entering from the thread side comes out from the tube side at the same (not controlled) flow rate. Slotted adjustment screw for outlet-side air flow control. Available with push to connect output fittings. Multiple sizes available. Maximum operating pressure of 150 PSI. Operational temperature range of -15°F to 160°F. Accommodate metric tubing O.D ranging from 4 mm to 16 mm and inch tubing O.D 1/8" to 1/2". Thread sizes range is from R, PT, BSPT 1/8 to R, PT, BSPT 1/2.

All Pneuflex's flow control valves can be used with Polyurethane Tubing, Nylon Tubing, Polyethylene Tubing and PVC Tubing.
Shape of Release Sleeve: Oval and Round.
Colors of Release Sleeve: Blue, Red, Black, Grey or Custom Color.
Body Color: Black or Grey.
Products of